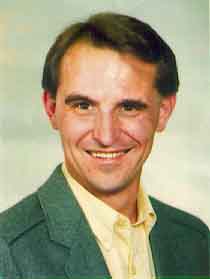 TIBOR TORMA
Research assistant professor and director of Kennon Observatory

Department: Department of Physics and Astronomy
Work Phone Number: (662) 915 - 5627

Postal Address: Department of Physics and Astromomy, 208 Lewis Hall, University of Mississippi, University, MS 38677

Teaching at OleMiss
Physics:
213-214 (Algebra-based physics for pre-med students); 223-224 (Physics laboratory for pre-med students);
211-212 (Algebra-based physics for engineering students); 221-222 (Physics laboratory for engineering students);
621 (Advanced electromagnetism (Jackson) ); 614 (Advanced quantum field theory).
Astronomy courses:
101 (Large service courses, no laboratory), 103-104 (Large service courses including laboratory);
503 (Practical astronomy for teaching assistants); 504 (Stellar structure).
Astronomy laboratories:
• Coordination of all the 16 astronomy laboratories.
• Astronomical imaging program (honors 104 and extra credit program 103/104).
For details, check out the astronomy course home pages. They look pretty neat!
Teaching-related publications:
• Image Taking with a CCD Camera. Text for honors projects.
• Laboratory manuals for Astronomy 103, Astronomy 104, and Honors Astronomy 104. Text for laboratories, updated every semester.
• Quantization in Loop Quantum Gravity. Review and introduction into the mathematical structure of LQG.
• The Astronomy Teaching Assistant's Handbook. For astronomy laboratory instructors.

Research Information:
Some of the fields in which I have worked are:
Higgs and technicolor phenomenology
Quantum gravity as a field theory, infrared divergences
The Gauge-Goldstone Equivalence Theorem
Taub-Nut spaces in axidilaton gravity
Quarkonium physics (B to J/psi, nu+p to J/psi)
Nonsupersymmetric extensions to the Standard Model: model building
Extraction of new physics from ttbar polarization at the Tevatron
The dynamics of chiral symmetry breaking: the role of instantons and four fermion condensates
The cosmological constant and field theory in extra dimensional scenarios
Semiclassical states in Loop Quantum Gravity

Here is a list of all my papers (with citations) on the net.