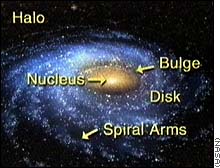 Our location: About 28 kly or 8.6 kpc from the center; we can only see out to 1/10 of that distance; We happen to be in a spiral arm, but not the one we were in when the Solar System formed.
Size and Structure of the Milky Way
Disk: Diameter about 100,000 ly, thickness varies (about 1000 ly here), slightly warped; We get the shape from 21-cm wavelength radio waves emitted by interstellar matter, or from open clusters, bright stars and nebulae if we see them; It contains stars with more heavy elements [population I].
Spiral arms: We can't yet map the spiral arms as well as those of other galaxies, but there seem to be two main arms (Scutum-Centaurus and Perseus) and other small, partial arms.
Inner halo: 60,000 ly or so radius; We get the shape from globular clusters; Contains redder stars, with fewer heavy elements [population II], but most of its composition is unknown.
Outer halo: Extends out to at least 200,000, possibly 500,000 ly.
Central bulge: Football shaped, dense, 6 by 4 kpc.
Core: Towards Sgr A, near M8; 10 ly across, difficulty to see, look with IR, radio and X-rays; A 4-million-solar-mass black hole (from the motion of nearby stars), possibly surrounded by many thousands of smaller ones.