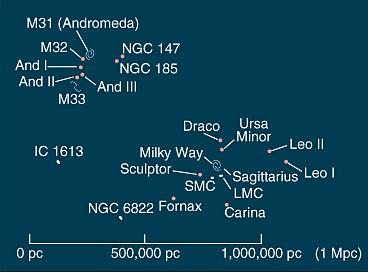 The Local Group: Includes M31, the Milky Way galaxy, their satellites, and other small galaxies, for a total of about 30-40 [including And XII, falling into the Local Group at 556 km/s]; It may be evolving into an elliptical galaxy, after the future collision between the Milky Way and M31.
The Milky Way Neighborhood
Does the Universe end outside the Milky Way? To answer, we need to measure the distances to suspicious objects like the Andromeda Nebula and the Magellanic Clouds; To do that, we need to see objects of known luminosity, "standard candles".
Finding distances: Out to 30 Mpc or so, use variable stars, mainly Cepheids (10,000 times the Sun's luminosity, see M100); The LMC (50 kpc away) and SMC [with their Magellanic Stream], and some others are in our immediate surroundings; The closest one is the Sagittarius dwarf [which we may have ripped apart from the LMC].
The Andromeda galaxy: M31, about 2 Mly away, is the closest large galaxy to us; It is similar in structure and size (somewhat larger), and is also surrounded by small galaxies and leftover clouds of gas.