Zheguang Zou
National Center for Physical Acoustics
University of Mississippi
Underwater Sound Propagation in Estuarine Environments
Estuaries are shallow-water regions that are highly dynamic due to a variety of environmental variability, such as tidal flow, water mixing, wind-driven water surface waves, etc. The environmental variability has significant effect on underwater sound propagation and acoustic communication. This talk will present some of these effects in the Delaware bay. The examinations include water-column variations due to tidal dynamics, and surface variations due to wind-wave dynamics. The results gain insight into the link between physical environments and underwater acoustic fields, suggesting the demanding of next-generation underwater acoustic communication systems for dynamic oceans.

Department Faculty
Department of Physics and Astronomy
University of Mississippi
Introduction to Department Research, followed by Ice Cream Social.

Robert J. Doerksen
Department of BioMolecular Sciences
University of Mississippi
Laws of Physics Applied to Molecules: Accurate Electronic Structure Calculations and Molecular Dynamics Simulations
Quantum mechanics, classical mechanics (so-called "molecular mechanics") and molecular dynamics (which could be classical- or quantum-based) methods can be used to study molecules and molecular systems to provide accurate fundamental properties, to compare to experimental results or to provide insight. In this seminar I will give a brief explanation of a variety of fundamental calculation approaches. I will illustrate the use of the methods for solving practical problems with calculations of optical rotations, NMR chemical shifts and electronic circular dichroism spectra that assist in assigning the absolute configuration of newly discovered natural product molecules and molecular dynamics simulations used to study the role of allosteric modulators of cannabinoid receptors.

Parsa Bakhtiari Rad
National Center for Physical Acoustics
University of Mississippi
3D Seismic Oceanography: The New Frontier in Ocean Water-Column Exploration
Seismic oceanography is a newly-introduced technique that links exploration seismology and physical oceanography. It consists of the application of the multi-channel seismic reflection method, commonly used in the oil and gas industry to image the subsurface geological structure, to the investigation of the fine structure of the ocean interior. Seismic reflection sections provide high quality images of the oceans fine structures with higher vertical and horizontal resolution and complement conventional physical oceanography measurements and logs. These images consist of seismic reflections that occur and are recorded whenever a seismic wave traveling in a heterogeneous media encounters interfaces between different water layers and is reflected back to the surface and recorded by special receivers. This talk will report the implement of a three dimensional (3-D) seismic study to better image the ocean interior. A very large seismic data set collected from the Mississippi canyon in the Gulf of Mexico is used to produce the 3-D seismic images of the ocean interior. The initial images obtained using massive hardware/software efforts exhibit promising results for further studies.

Eyal Schwartz
Department of Physics and Astronomy
University of Mississippi
Single Atoms Dynamics in Tight Optical Tweezers
One of the enduring ambitions in atomic physics is to build an understanding of interacting macroscopic systems completely from knowledge of the underlying microscopic dynamics. In recent years, experimental advancements in the near-deterministic isolation and control of single atoms, paved the way for this connection of the few-body and many-body regimes. As experimental techniques in engineering atom-atom interactions become more reliable and widespread, further opportunities for direct observations of quantum phenomena come to light.
In this talk I will give an overview of our past and present work. From laser cooling and trapping of a single atom in optical tweezers, through different manipulations to study few body dynamics in an atomic level. I will detail our latest works of "Thermally-robust spin correlations between two atoms" and "Direct measurements of collisional dynamics in ultra-cold atom triads".
Our facility gives a push button mechanism for future quantum chemistry, quantum computers and cool fundamental quantum experiments to explore the relations between the micro and macro worlds.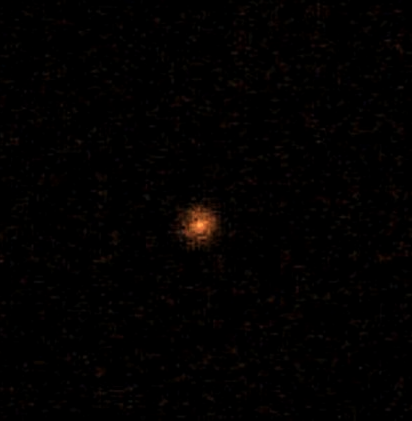 A fluorescense image taken in our experiment of a single trapped Rubidium-85 atom.

Stefanos Kourtis
Physics Department
Boston University
Quantum-inspired Approaches to Hard Computational Problems
Many classes of complex computational problems admit no efficient solution or even approximation, yet have a vast reach in applications across science and industry. From a physics perspective, computational complexity originates from strong correlations between bits of information. It is reasonable to ask whether computational approaches to quantum many-body problems can be practically useful in this context. In this talk, I will present newly found cases where the answer is affirmative. I will introduce constraint satisfaction problems (CSPs) and reformulate them as interacting models whose ground states represent the solution manifold. A procedure that reaches the ground states of these models implements a protocol of computation. In some protocols, the complexity that arises during computation can be viewed as quantum entanglement, and efficiency is achieved by controlling its growth. Using this reasoning, I will introduce practical methods for solving CSPs based on tensor network contraction and demonstrate that they outperform state-of-the-art solvers for some of these problems by a significant margin. I will conclude with an outline of ongoing work on extensions and applications to problems of current interest, such as the simulation of existing and near-term quantum circuits.

Surajit Sen
Department of Physics
State University of New York at Buffalo
A New Look at Nonlinear Dynamics - Fundamental Physics, Shocks and Metamaterials
Nonlinear dynamics as a subject began in the late 1600s and matured into a broad based area in the late 20th century. The talk will shed light on the breadth of the subject, the characters that seem to inhabit the nonlinear world, how they interact, and the newly introduced quasi-equilibrium phase. What nonlinear dynamics gives us in terms of making novel metamaterials and technologies will be highlighted.

Ryan C. Fortenberry
Department of Chemistry
University of Mississippi
Quantum Chemistry and Spectroscopy: A Match Made in the Heavens
The chemistry of the Earth is tied to only a small set of conditions while most of the rest of the Universe is often grossly different from terrestrial circumstances. Consequently, astrochemical experiments can be quite difficult to perform, but quantum chemistry does not suffer the same difficulties. Here, quantum chemistry is applied to the prediction of gas-phase spectroscopy and molecular formation of various " unstable" molecular systems including radicals, cations, and anions. The spectra of seemingly strange species including proton-bound complexes (i.e. OC—H+—CO), noble gas molecules (i.e. ArCH2+, NeON+, & ArOH+), premineral molecules (i.e. Mg2O2 & MgF2), and odd bonding in chalcogen hydrides (H2S—S+) have been produced and even linked with laboratory and astrophysical detections. The applications of these findings stretch from the esoteric of cool and novel chemistry to indicators of early stages of planet formation even to abiotic molecular oxygen synthesis in comets, atmospheres, and the early Earth.

Karim Sabra
George W. Woodruff School of Mechanical Engineering
Georgia Institute of Technology
Ocean Remote Sensing Using Passive Acoustics
Acoustic waves carry information about their environment as they propagate, especially in the ocean which can conduct sound very efficiently over significant distances. Hence underwater acoustic waves can be exploited for a wide variety of ocean remote sensing activities. Modern acoustic remote sensing involves receiver arrays and array signal processing to recover multidimensional results, for instance the characterization of medium inhomogeneities due to sound speed fluctuations or discrete sound scatters. On one hand receiver arrays are becoming increasingly autonomous, miniaturized and capable of long term deployment thus enabling the practical use of acoustics for ocean remote sensing applications. However, on the other hand, conventional acoustic remote sensing techniques still typically rely on controlled active sources which can be problematic to deploy and operate over the long term, especially if multiple sources are required to fully illuminate the ocean region of interest. To address this crucial limitation, totally passive versions-i.e. using only receiver arrays- of existing remote sensing techniques can be developed by taking advantage of uncooperative sources of opportunity (e.g. shipping noise) or the ubiquitous ocean ambient noise which have not typically been used in traditional ocean sensing applications due to their apparent complex nature. This fully passive approach can also be advantageous when regulations forbid the use of active sound sources to prevent the disruption of natural animal activities or when no active sources are readily available-e.g. at very low frequencies (~10Hz) or during covert operations. This presentation will discuss recent development of ocean remote sensing using passive acoustics notably 1) Passive acoustic thermometry to estimate deep ocean temperatures variations using coherent processing of low-frequency ambient noise, 2) Localization of drifting sensor networks using ambient noise to enable random volumetric ad-hoc receiver array for tracking underwater targets; and 3) Monitoring of shallow water sound channel using shipping sources of opportunity. Additionally the extension of these passive remote sensing techniques to seismic and structural health monitoring applications will also be presented.

Baharak Sajjadi
Department of Chemical Engineering
University of Mississippi
Efficient Carbon Modification for Sustainable Food/Energy/Water Nexus
Climate change mitigation is arguably the leading grand challenge facing mankind. Our critical reviews of physical modifications (Reviews in Chemical Engineering, 2018. in press, doi.org/10.1515/revce-2017-0113) and chemical modifications (Reviews in Chemical Engineering, 2018. in press, doi.org/10.1515/revce-2018-0003) of biochar in addition to our experimental results suggest that acoustic, photochemical and plasma treatments, in selected reaction environments and conditions; are capable of inducing either structural or functional group changes on carbonaceous materials. These tunable, low energy treatments have potential to mitigate climate change through a number of transformative tracks.
The pioneering work of our transdisciplinary team revealed that single-staged ultrasound and photochemical treatments of biochar in H2O with dissolved CO2 results in fixation of C from CO2 on biochar, fixation of H from water on biochar, mineral leaching by water including minerals detrimental to gasification, increase in biochar's heating value (due to the 3 processes stated above), and increase in biochar's internal surface area (AIChE Journal, 2014. 60 (3):1054-1065). These synergisms seem to be tunable by feedstock, reactants stoichiometry and reaction conditions in pyrolysis, and treatments (Fuel, 2019. 235:1131-1145). Carbon and hydrogen fixations seem to be connected to the formation of H2 , CO, formic acid, formaldehyde, and associated radicals during sonolysis of aqueous CO2. Similar to ultrasound waves, non-thermal plasma can split water vapor and CO2 to excited chemicals and fuels including methanol, H2 and CO ( Current Opinion in Green & Sustainable Chemistry, 2017. 3:45-49). The presence of carbon in the plasma system has not been explored. However, treatment of biochar in non-thermal chlorine plasma yields a high adsorption capacity of elemental mercury in flue gas due to the creation of Cl-active sites (Chemical Engineering Journal, 2018. 331C:536-544).
In this seminar, we will discuss the potential routes of the observed synergisms in mitigation of climate change through CO2 capture/recycle, energy production through advanced gasification, Remediation of global carbon cycle (Fuel, 2018. 225 :287-298) & water resource (Ultrasonics Sonochemistry, 2018, in press). These treatments can also open new routes for tackling challenges such as water desalination through functionalized defected graphene membrane.

Andrea Welsh
School of Physics
Georgia Institute of Technology
Coming Together: Individuals at Different Scales Working for A Common Goal
Patterns in time and space are ubiquitous in everyday life, from the formation of structure by cell morphogenesis, to the coloration of animal's skin and fur, to the construction of large sand dunes from the driving and dissipation of the environment. My thesis can be classified into two threads: investigating the formations of patterns by the collective motion of systems — such as swarms of brine shrimp and human spiral waves — and the exploration of "chimera states," a spatio-temporal pattern with more than one distinct behavior, both of which occur in biologically-relevant models of excitable tissue. I use a combination of computer simulation, mathematical methods, and table-top experiments to study these instances of pattern formation and learn how they are formed in biological systems, as well as the relevant physical parameters that control what sort of patterns are formed. Investigation of these systems have important consequences in how we understand our world, quantify and predict their dynamics and gain insights on why some patterns are physically chosen over others, and how to control them for our benefit.